iBuild Winner of Australian Export Awards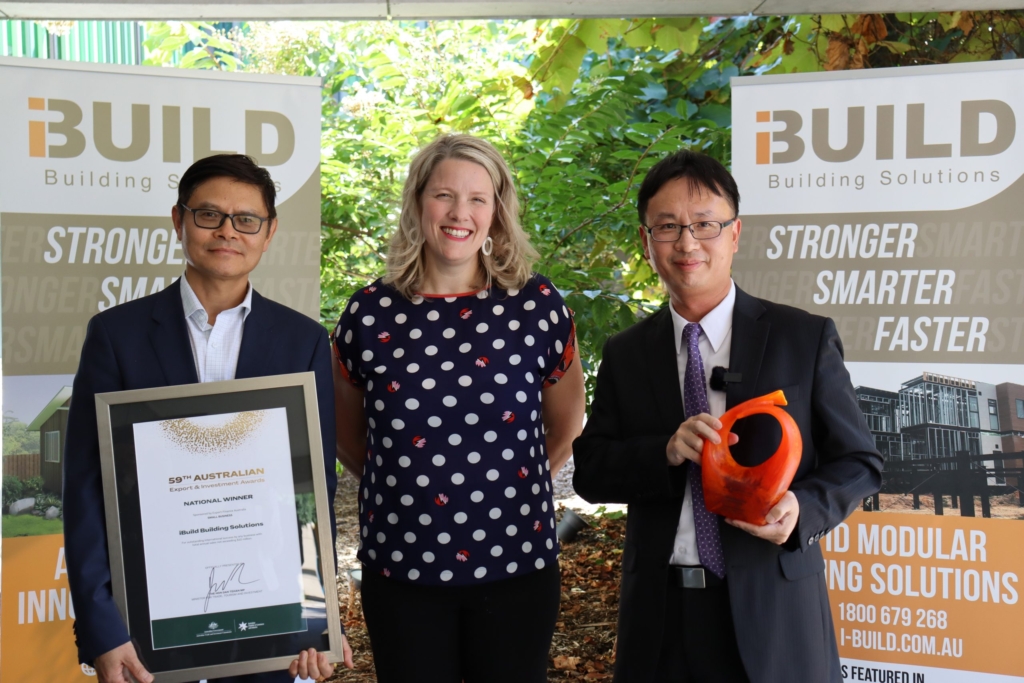 Australian-owned modular and kit home manufacturer, iBuild Building Solutions, has been honoured at the 59th Australian Export & Investment Awards as an award winner for the Small Business Category. Hosted by the Australian Government, these awards recognise Australia's top exporters in 13 national categories.
During her visit to iBuild on 7 March, Federal Member for Hotham and Shadow Minister for Senior Australians and Aged Care Services, Clare O'Neil presented the Australia Export Awards to iBuild co-founders Jackson Yin, and Michael Zeng.
Minister O'Neil praised iBuild for its amazing export successes and valuable contribution to the local community.
They found a problem in Australia that needed to be solved and have brought innovation and brilliance through their education and experience.
The next 100 years of prosperity will be driven by very different things, such as our experience in computing, brilliance in engineering and entrepreneurship.
From Garage to Global Success
Starting out in a garage 7 years ago, iBuild has fast become one of Australia's leading kit home providers. iBuild delivers its certified Australian-made kit homes and modular buildings to customers across the globe. So far, the company has exported to South Pacific and West African nations including the Cook Islands, Tonga and Senegal.
As an Approved Tender Supplier of prefabricated buildings to the Victorian Government and the United Nations, the company supplies social housing and aged care projects across Australia. iBuild has recently partnered with builders such as John Holland and Lendlease, working on sustainable infrastructure projects.
Minister O'Neil also praised iBuild for its support of young university students, providing the new generation with the essential skills and experience for future innovations. The company has collaborated with 8 Australian Universities to support around 600 interns in the past 7 years.
In his acceptance speech, Jackson Yin thanked the iBuild team for their hard work, and unveiled iBuild's goal for the next 7 years. iBuild plans to continue expanding into global markets by attracting more talented people to join the team, investing further into increasing fabrication capacity, and opening up offices in other parts of the world.
'Our mission is to create affordable housing and innovate the workspace, to be stronger, smarter, faster and more affordable"

"By 2030, we aim to achieve an annual turnover of $100 million."
Federal Minister Clare O'Neil Presents Australian Export Awards