Solar Energy – The Photosynthesis For Your iBuild Home
At iBuild we have a fundamental belief in sustainable living, including energy efficient building designs and use of solar energy. That is why we announce with pride the launch of Jim's Energy to our line. The partnership means our customers can add a solar panel system to their new home. We will encourage our customers to utilise this opportunity to access solar energy in their new homes.
This collaboration is exciting as our customers can now source renewable energy from the sun. Given that Australia has an abundance of sunlight the Jim's Energy Solar installation is a perfect addition to your new home as a way to reduce those costly energy bills! There are a range of different options from the number of solar panels, to the solar energy storage systems. Importantly to us, Jim's Group is an Australian company, generating businesses and jobs for Australians.
iBuild aims to deliver customers with peace of mind by using quality products and services at an affordable price. Our partnership with Jim's Energy further ensures this aim is met. This is due to the strength of the Jim's Group and the trust that they have built with their loyal customers. We believe that Jim's Energy will continue building on this trust when providing to our customers their solar energy systems.
How Does Solar Energy Work
The solar panels convert sunlight into Direct Current (DC) electricity.
The Inverter converts DC into Alternating Current (AC).
The AC electricity is stored and then fed to your lights and appliances.
The utility meter measures your energy usage and the amount you feed back into the grid.
You can find more on solar energy panel installation and Jim's Energy here: 
http://www.jimsenergy.com.au/residential-solar-energy
Go Solar - With Companies You Can Trust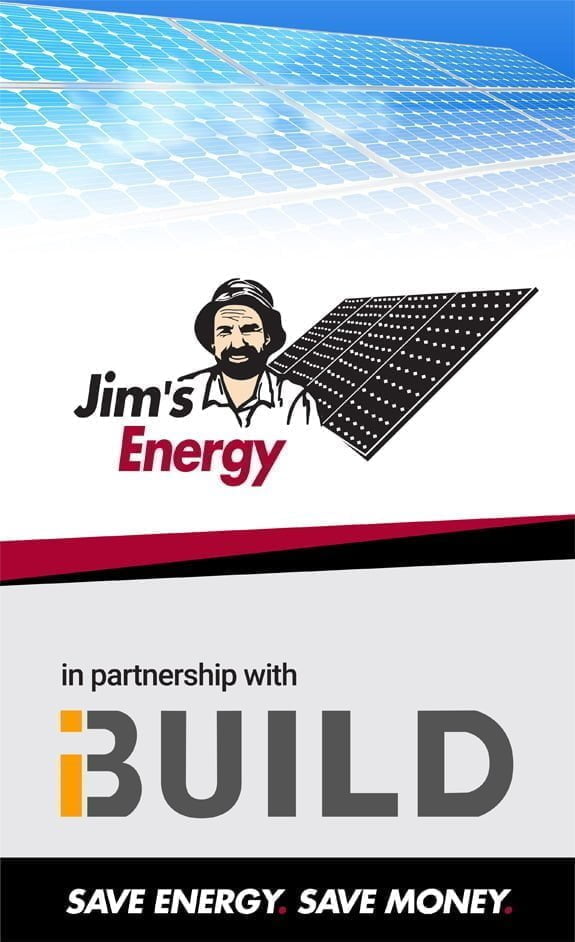 Special Promotion
Special Promotion Order Jim's Energy Solar Panel from iBuild today and you will receive a FREE Google Home Mini at the completion of your project. This is a limited time offer for the first 50 customers who sign up. Hurry before they are gone!
Just click below and key in the promotion code "SolarPanel" in the Message section.

Government Subsidies and Rebates
There are also
government subsidies and rebates
available for solar energy systems depending on your location within Australia. Victorians have the highest mandated minimum Feed-in Tariff (FiT) at 11.3c/kWh. The feed-in is defined as the energy your solar panels send back to the grid.