Gain comprehensive insights on what an owner builder is  from the CEO of the Owner Builder Centre, Greg Christodoulou, through an exclusive interview shown above. This interview covers everything you need to know to embark on the path of owner building.
Greg Christodoulou – CEO of Owner Builder Centre  is  a trainer with a construction law background, Greg and his team started Owner Builder Centre in 2010, helping to empower thousands of Australians to control their destiny by educating and training them how to be owner builders.
To Learn more about the Owner Builder Centre and their courses: click here
What Is An Owner Builder?
An owner builder is someone who has a clear vision and strong commitment to creating their ideal home or residential building. They are individuals who are passionate about designing and constructing a space that is tailored to their unique needs and preferences. By taking on the role of the builder or contractor for their project, an owner builder has the opportunity to shape every aspect of the construction process. This level of control and customization empowers the owner builder to create a truly unique and personalized space that reflects their individual style, taste, and personality.
From the initial design phase to the finishing touches, an owner builder has the freedom to make decisions that align with their vision and goals for the project. This includes selecting materials, choosing finishes, and overseeing the work of subcontractors. With this level of control, an owner builder can create a space that is both functional and aesthetically pleasing, tailored to their specific needs and desires.
The owner builder approach allows for a level of creativity and innovation that may not be possible with a traditional builder. An owner builder can experiment with different materials, designs, and layouts to create a truly unique space that is not only functional but also visually stunning. This level of customization also ensures that the end result is a true reflection of the owner builder's personality and style.
Owner Builder Responsibilities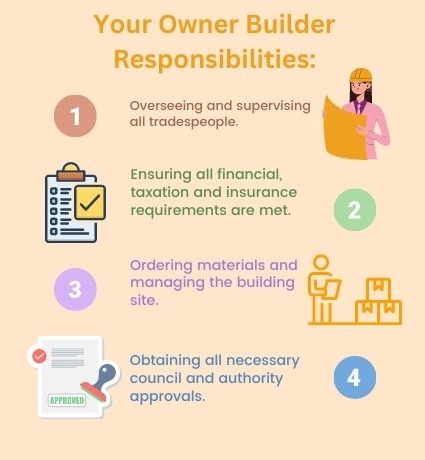 How To Become an Owner Builder in NSW, VIC, QLD, WA, SA, TAS, NT, ACT
How To Become an Owner builder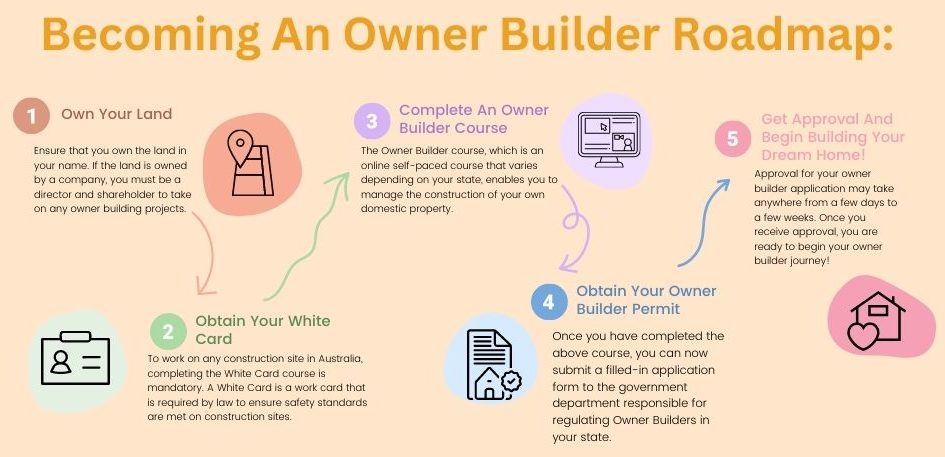 The Benefits Of Being An Owner Builder
Save Time
Owner building can help you home to lock up in just 6-8 weeks
Save Money
Save up to 30% on average on your project's total labor costs.
Full Control Over Your Project
As an owner builder, you have complete control and flexibility over your entire build.
5 EASY TIPS TO BECOMING AN OWNER BUILDER
You May Also Be Interested In
*The information provided on this webpage is for general information purposes only and should not be considered as professional advice.