iBuild Kit Homes Prices Table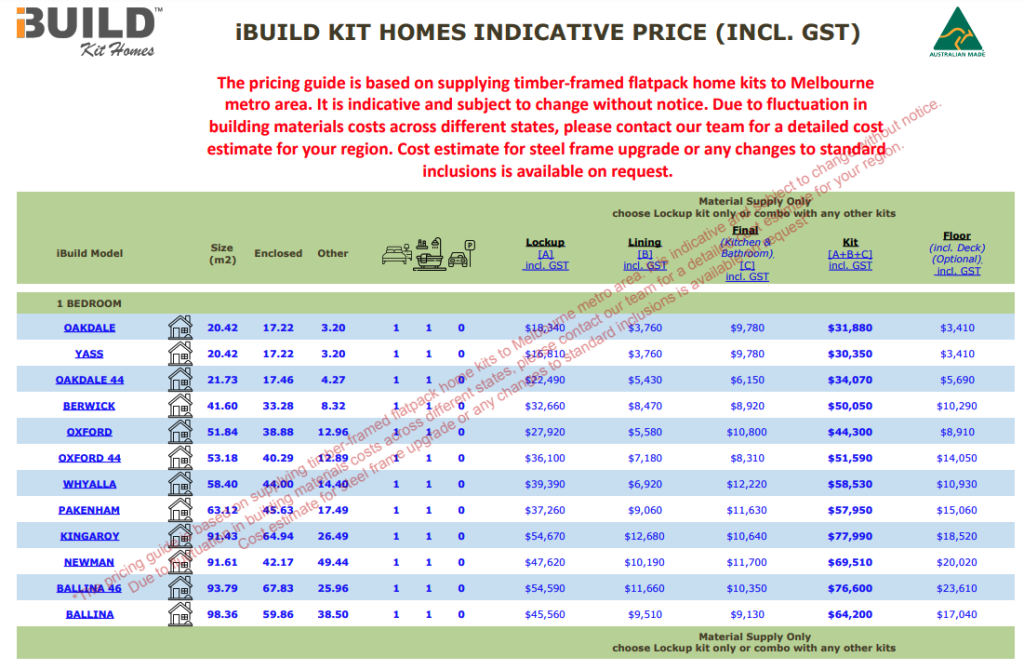 You can download a copy of the PDF file to view the indicative pricing for our wide range of kit homes, based on N3 wind rating and BAL-low.  Note that delivery costs will be extra.
You will note the breakdown of prices for different stages of home kits:
Lock up stage home kits
Lining stage home kits
Final stage home kits
Floor kits (optional – when you choose elevated floor instead of concrete slab)
So if you plan to do it yourself (DIY), i.e. to obtain an owner builder license and build your dream home as an owner builder, you can choose to which stage of home kits you want.
You can also employ a licensed builder to do it for you (DIFY).  We may be able to arrange an iBuild Affiliated Builder for your build.
Customer Champion Explains Kit Home Price
Other Costs You May Need To Consider
In addition to the material supply costs of our home kits, you may need to consider other associated costs which may be applicable to your project.
Permits and Approval Costs
Compliance and approval related costs such as land survey, soil test, footing design, council planning permit, and building permit
You can manage yourself or ask iBuild to help for a service fee.
You May Also be Interested In