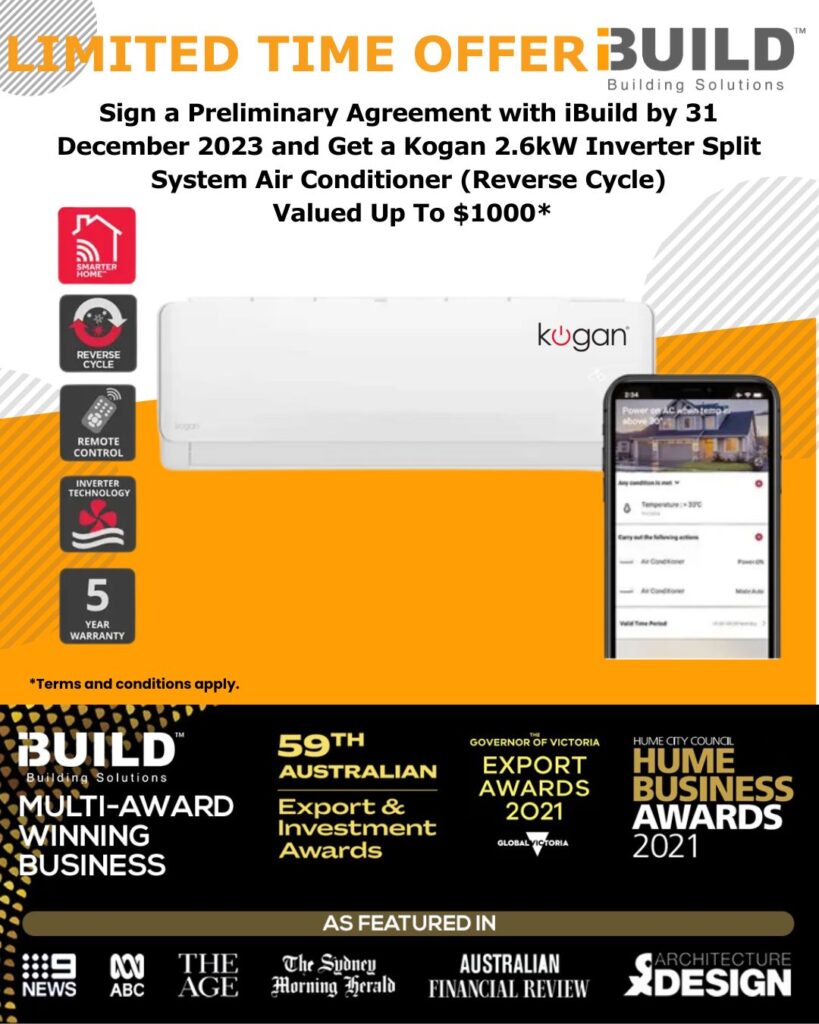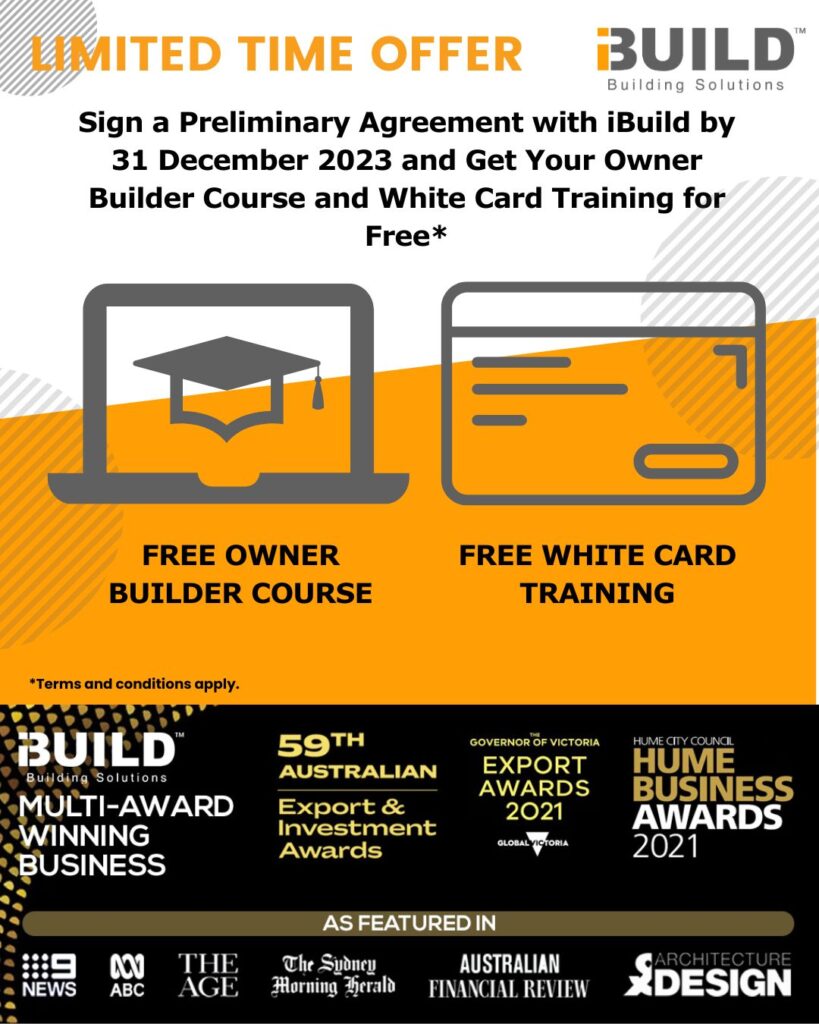 Get Your Training & An Aircon On Us
Building your dream home is a significant investment. At iBuild Kit Homes, we understand this, and that's why we're here to help you every step of the way. Our commitment to providing a reliable, hassle-free, and trustworthy service is reflected in our slogan: "Trust us, you are in safe hands." Our team is passionate about delivering exceptional customer service and providing you with the support you need throughout the building process. With our advanced technology and expertise, you can trust that your project is in safe hands.
To make your project even more seamless, we're excited to offer a limited-time promotion for anyone signing a preliminary agreement with iBuild by 31 December 2023. iBuild will cover your owner builder course (state dependent) and white card training for free plus you will get a free aircon valued up to $1000 . We're committed to helping you make the most of your investment, and this exclusive offer is just one of the ways we demonstrate our commitment to you.
Don't miss out on this limited-time offer – contact us today to sign a preliminary agreement and claim your free goodies. Trust us to help you make your project a reality.
DON'T WAIT - CLICK BELOW TO TAKE ADVANTAGE OF THIS INCREDIBLE OFFER!
This offer is available only to new iBuild Kit Homes customers who sign a preliminary agreement for the design and supply of a home kit during the promotional period between 1 October 2023 and 31 December 2023.
The offer includes the cost of both your owner builder course and white card training. However the maximum reimbursement for both your owner builder course and white card training will be $500, and you will be reimbursed for both after lock up delivery.
The offer includes a free airconditioner to the value of up to $1,000 for the customer's new home, which will be delivered to the customer's nominated address in Australia at time of lock up delivery.
The customer agrees to supply iBuild Kit Homes with regular progress photos of the home kit assembly, which may be used by iBuild Kit Homes on their social media and website.
This offer cannot be used in conjunction with any other offers or promotions.
iBuild Kit Homes reserves the right to modify or cancel this promotion at any time without prior notice.
The offer is not redeemable for cash.
This offer is subject to the terms and conditions of iBuild Kit Homes as well as any applicable laws and regulations.
By participating in this promotion, the customer agrees to all terms and conditions outlined herein.
iBuild Kit Homes is not responsible for any errors or omissions in this promotion or for any losses or damages that may result from the customer's participation in this promotion.
This offer is valid for a limited time only and may be withdrawn at any time without notice.