iBuild Setting The Example
iBuild Building Solutions has recently been commended by the City of Monash for its outstanding contribution to the business and tertiary community.
Monash Mayor Paul Klisaris praised iBuild's internship program which hires as many as 30 interns each year from Monash University and Holmesglen TAFE.
"I encourage more Monash businesses to follow iBuild's example," Mayor Klisaris said.
"It is obvious that interns add value to any business. But it is a two-way street. You have to provide them with meaningful work so they gain extra skills that prepare them for the workforce."
The company's internship program began in 2016 and placements are now offered to students from a variety of fields including engineering, business, finance, marketing and Information Technology. Managing Director of iBuild Dr Jackson Yin said interns gain valuable real-world experience from the placement and apply their unique skills, capabilities and enthusiasm to the role.
Following the end of their placements, some interns have been fortunate enough to be offered permanent positions. Jayden Savannah completed his marketing internship in 2017 before recently being promoted as a Marketing Project Manager. Jayden now supervises as many as 10 interns a semester, developing his own leadership and mentoring skills in the process.
"While it may sound onerous, it isn't. I've created a program so that the students are all set and ready to go within one week," he said.
"A majority of the interns are in their final year of study and bring really valuable skills and attributes to the job."
Holmesglen student Helen Ly was one of iBuild's most recent interns where she gained practical, real-world skills.
"I really liked the placement at iBuild. I was assigned to conduct inshore and offshore market research to look for potential markets as well as increase our target audience in the residential, commercial and government sectors," she said.
"This real business experience, combined with my marketing knowledge and sales skills, will greatly assist me in finding the part-time job I'm looking for as an administrative or marketing assistant."
Supporting Young Talent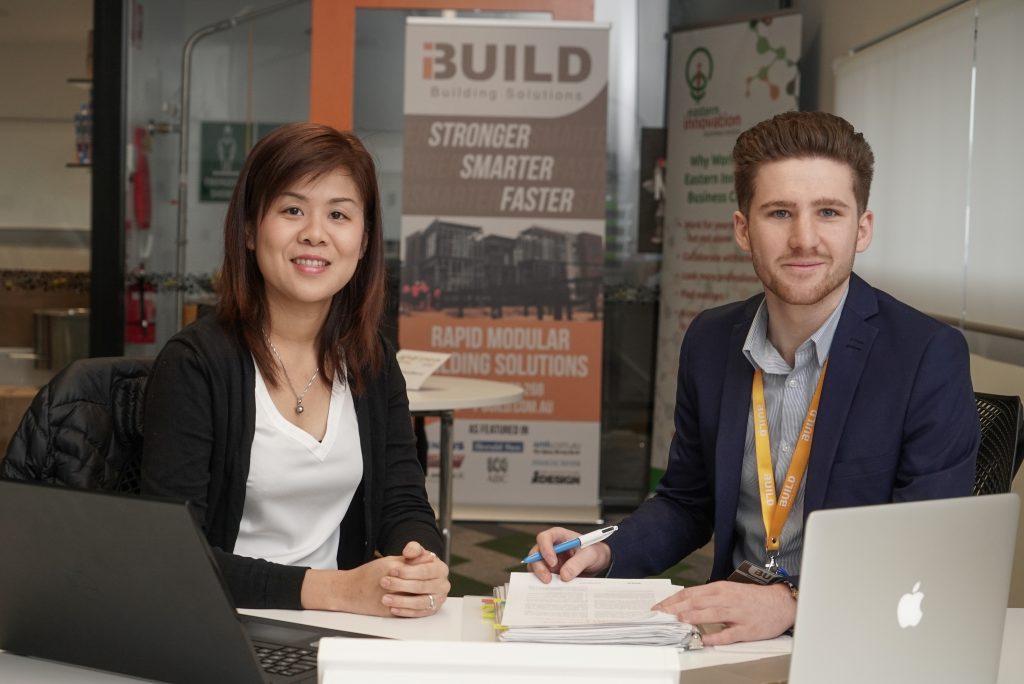 Holmesglen student, Helen Ly with supervising mentor Jayden Savannah
iBuild Managing Director, Dr Jackson Yin with City of Monash Mayor, Cr Paul Klisaris, Eastern Innovation Centre CEO Danielle Storey, and Board Chair Prof Darrell Mahoney