iBuild Awarded DAWR Contracts
iBuild has recently had the privilege of liaising with the Department of Agriculture and Water Resources to construct four Commonwealth Government funded projects. These exciting projects are currently underway and consist of two DIY Butterfly products on Saibai Island and two DIY containers on Boigu Island, both in the Torres Strait off the coast of Queensland.
Working with the Australian Government for this project is a rewarding experience for the company, considering iBuild's start-up nature and the competitive essence of the construction industry. The Department of Agriculture and Water Resources oversee the viable and productive use of agricultural, fishery, forestry and food resources, so being chosen to interface with them highlights the sustainable and resourceful nature that iBuild exudes.
Being selected over a multitude of other corporations to complete the four projects for the Australian Government has allowed for recognition of iBuild's innovation, attention to detail and applicability to almost any location. The outstanding flexibility of iBuild is also showcased, in addition to our suitability to the task as the products require distinctive alterations due to the extreme weather conditions experienced on the Islands. Saibai and Boigu Islands are notorious for extreme weather events, and accordingly the buildings must be able to withstand such occurrences.
iBuild's range of customisable options eliminated any such difficulties, as the inundation caused by powerful rains and king tides could be counteracted by elevating the buildings on piers, awnings were added to relieve the effects of the harsh tropical sun, and external materials strengthened to meet C4 cyclonic wind rating requirements.
This Government project epitomises iBuild's ethos, as being stronger and smarter embody part of the company's core principles. Having such great flexibility allows construction to occur wherever clients wish, eliminating limitations and exceeding the confines of conventional building. We look forward to working with Government organisations further in the future, and anticipate the finalisation of this project to surpass expectations.
An Artist's Impression of Saibai Project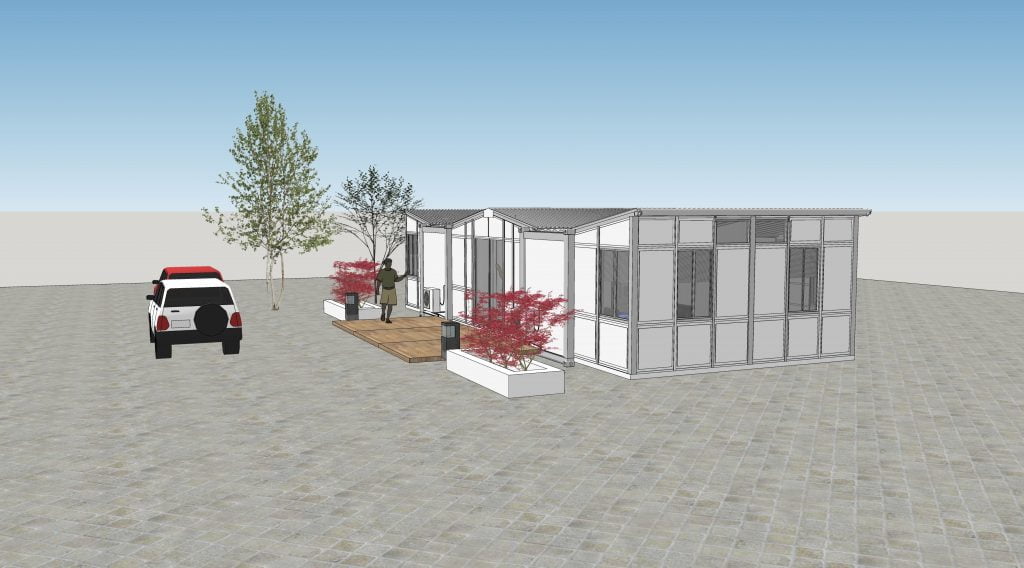 Architectural Drawing of Boigu Project